My journey to Comedy Sex God began with Rob Bell, which is fitting because he's the author of Sex God.
Similar themes, but less funny.
Rob is the former pastor of Mars Hill Bible Church in Grand Rapids, MI (not to be confused with Mars Hill Church in Seattle). I used to religiously download his weekly sermons, and was feeling a Bell-shaped void after he decided to take off for Los Angeles to pursue other ventures.
It was 2013 and were planning a trip to Ottawa at the time, so I did a search for Rob Bell in my podcast app to help keep me entertained on the long drive. I came across his name listed beside this funny little logo and was interested to see how the author of Love Wins could make it even weirder. As it turned out, that book was the impetus for this podcast host to reach out to Rob, and I quickly learned that I actually had a lot in common with Pete Holmes.
We were both raised in the church. We both went to small Christian universities (I even knew people who went to his). We both liked to make jokes, although he's admittedly a million times better at comedy than I could ever dream to me. We were both clearly fans of Bell's, and welcomed his work as opposed to bidding him farewell like so many others still caught in the throes of evangelicalism.
I ended up listening to that episode more than once, and You Made It Weird has been part of my weekly routine ever since. I love the silly episodes, the spiritual elements of it, the Friends of Rob Bell series, the comedy guests, the inside baseball tales from the worlds of stand up and show business. I rarely take a week off.
On top of that, I devoured clips from Pete's foray into late night television, his HBO specials, and especially the recently-cancelled Crashing, which I loved for all the same reasons I keep downloading the podcast.
So when Pete first announced he was working on a book, I knew it would be right up my alley.
I was lucky enough to receive an advance copy from Harper Collins and made my way through it over the course of a few days. Here's a few thoughts on this delightful piece of work.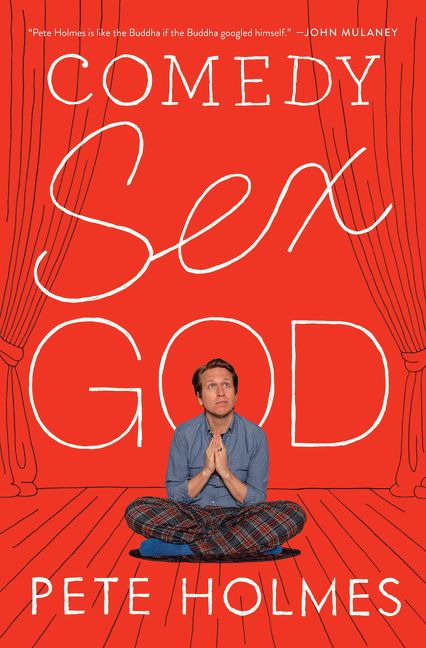 I was already pretty familiar with Pete's story from all of the above, but I really resonated with his early struggles with the church, particularly as it pertains to purity culture, the sins that tend to befall teenage boys, dealing with that guilt and shame, responding to countless altar calls and repeating the process over and over again.
Like I said, I too went to a Christian college, began to explore new/old ideas, and eventually left the church I grew up in.
Our stories aren't quite the same (my wife didn't leave me for a small Italian man, thank God), but I weave in and out of phases of deconstruction and reconstruction as a result of life circumstances, having my eyes opened to new ways of thinking while shelving old, harmful beliefs about faith and God's role in the world in which we live.
I can't say I've gone so far as to have my mind opened by psychedelics, and likely never will. Pete's deep dive into Ram Dass is kind of where our paths veer most obviously. I'm interested in him and will check out his teachings, but I won't be humping on a plane to Hawaii anytime soon. At the same time, I've kind of found a guru in absentia in Richard Rohr – another previous YMIW guest and a fave of Pete's – and often think about planning a retreat to New Mexico to meet him.
That's kind of the point of Comedy Sex God, really. We're all on different paths, but we all come from the same Oneness, and the more in tune we become with it and each other, the better off we all will be.
Pete referenced Bell in this book, and I know he has a relationship with others I admire, namely The Liturgists, David Bazan, and Rohr himself. Again, different streams, but all flowing from the same grand river.
The sections on meditation and breathing and Awareness were particularly meaningful for me, and I know these are practices I need incorporate into my life. Thanks for another kick in the ass, Pete.
I should add Pete is a really great writer, and both his comedy and his warmth come off the pages in droves. This book is hilarious, and I laughed out loud on several occasions; it's also deeply moving, and I teared up more than once. It's above all incredibly honest and vulnerable, and Pete's authenticity is what draws so many to his work, myself very much included.
Right off the top, Pete writes "My mom always wanted me to be a youth pastor. When I become a comedian, she said, 'Close enough.'" I'm a grown man with a wife and 3 sons, and Pete's inner youth pastor speaks to me on a regular basis. It will come as no surprise that I can't recommend this book highly enough. I hope you all read it, love it, and come to admire Pete as much as I do.